Debra D. Griffin A JOURNEY To WELLNESS
A Journey to Wellness: A Series of Collective Thoughts
A Journey to Wellness: A Series of Collective Thoughts
begins in a space in time between the death of one husband and the marriage to the second. This is the starting point where author
Debra D. Griffin
last felt whole before beginning her journey to survive the ravages of Breast Cancer.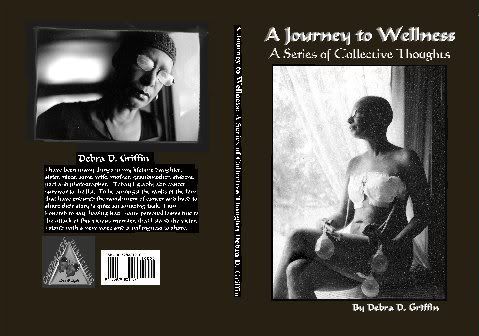 Between the covers of this inspirational story is one amazing woman's strong will to survive.
These are the entries from the journal that the author kept between surgeries, between tears and pain, between chemo sessions, between prayers and during reflections on her life's phenomenal journey. As author Debra D. Griffin reflects on her daughters, on loneliness, and on the false sense of security that she felt when she wed her second husband, readers are taken on a voyage of her self-discovery. There are no dates in the text as this rendering is solely to document her thoughts during the process and not to keep time on how long the process took.
The book documents the process in vivid detail from hair loss due to chemo therapy to the devastating blow of implant failure, as well as liver and brain cancer metastasis. The photo journal of meaningful pictures were taken by her own talented photographer's hands, visually documenting her struggles and successes.
A Journey to Wellness: A Series of Collective Thoughts shares how faith, smiles, music, friends, family and an entire community stepped up to the plate to assist Debra D. Griffin and what it meant to her: Life!!!
OUT of PRINT
ABOUT the Author
"Life is a series of perilous journeys… then you die. I cannot tell you the countless times I have heard this phrase during my lifetime, but I can tell that the author of this simple slogan did not have me in mind when it was composed. I can also tell you that, what is meant to be a simple and witty axiom has not shown to ring true in this journey, this excursion, this passage I will henceforth call my life. Yes, life can be an unforgiving and perilous journey, yet the rewards of its passages are bountiful. I have wonderful people in my life who see that all my basic needs are met. There is a joy deep in my heart that sings triumphantly and no one can take it away."
~Debra D. Griffin
"You see, I was asked to keep a journal. This, I believe, was an exercise to soothe my mind and heart while going through the process. But what it ended up being is a reflection of my salvation."
~Debra D. Griffin
"Honestly, it has been a pleasure, even under this set of circumstances, to render to you the words which speak so vehemently in my heart. To be able to have a window of opportunity and to do what you love most is a blessing granted by God under any circumstance. I hope that you enjoy this brief glimpse into my life and I ask that you please pray that the Lord continues to bless both my family and me."
~Debra D. Griffin